MEET OUR FARMERS
SEELEY FARM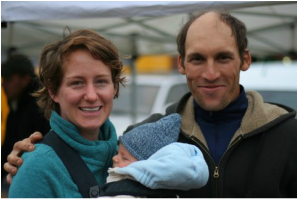 Seeley Farm, established in 2012, is a certified organic farm that specializes in growing a variety of salad greens alongside a diverse range of vegetables, herbs, and flowers. The farm is owned and operated by Mark Nowak and Alex Cacciari who bought the 30 acre farm after traveling and working for farms across the U.S. and other countries.
The farm name "Seeley" comes from the name of a family who owned one of the farms both Alex and Mark worked for in New York state which was a 120 acre sheep farm. It is here where they found their love for the lifestyle of farming and continued on to Michigan where they farmed at Tillian Farm Development Center until moving to their own farm.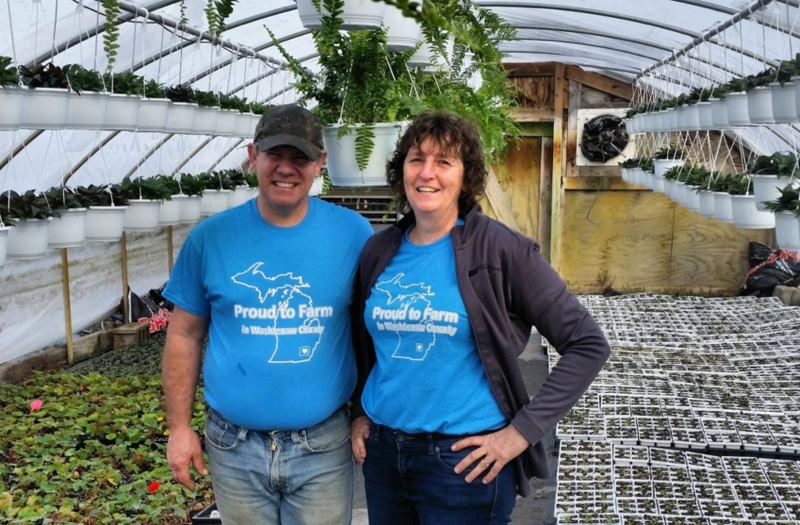 Pictured above is Mike and Kathy Fusilier inside one of their greenhouse spaces
Fusilier family farms, a 6th generation owned farm, is a whopping 220 acres that effectively utilizes its large scale by the means of growing, raising, and selling food in multiple types of systems. Their primary focus is diverse vegetable field production. The farm also includes livestock management, hoop house/ greenhouse production, and an on site farmer's market.
The Fusiliers are a family owned business, hence their farm name, and have included their children and their spouses in on working and managing the farm alongside operating the several farmers markets they attend and own. The farm also runs a CSA.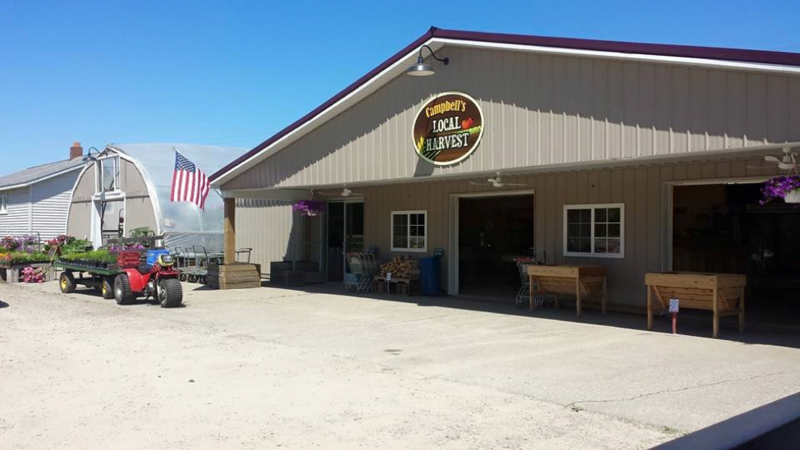 Campbell's Local Harvest is a 5th generation owned farm and store market. The store offers a wide range of commodities including annual/perennial plants, flowers, vegetables, fruit, garden starts, crafts, soaps, and other various products.
Campbell's can be considered as a "food hub" as it allocates produce from other farms, growers, and producers but also grows their own vegetables on a large farm located minutes outside the Imlay City.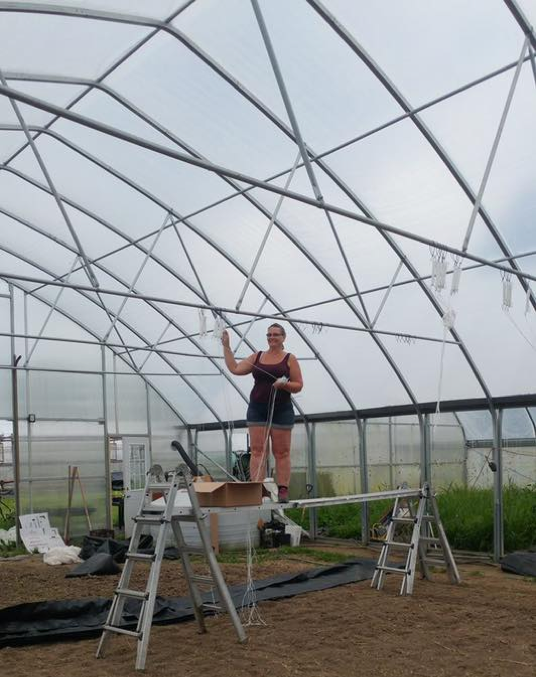 Sharon, pictured above, working diligently inside her hoop houses
Setting up support trellis for her tomato plants.
Sharkar Farms, "pronounced Share-care", is a diversified vegetable farm with 12 acres in production established in 1999.
Sharon Ostrowski is the owner and operator of the farm and has made it a family-run business by including her children and husband on to the everyday tasks of the farm.
Sharon grows produce like tomatoes, greens, and herbs well into the winter time with help from her season extension houses (aka Hoop Houses). She offers her produce at several markets and through a CSA. She also likes to experiment and grow things in different methods like growing lettuce hydroponically.
Sharon, pictured above, working diligently inside her hoop houses
Setting up support trellis for her tomato plants.
WE THE PEOPLE GROWERS ASSOCIATION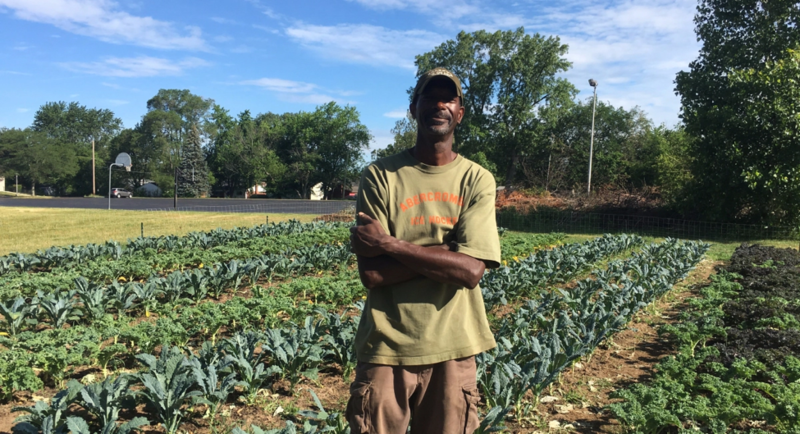 Farmer Melvin standing in his beautiful brassica plot at his community farm site in Ypsilanti.
We the Peoples Grower Association is led by Melvin Parson; an empowering individual who is using his vision to create a social enterprise that develops job employment for men and women returning home from incarceration.
Melvin is a community driven individual working behind his motivating force of gardening and farming to inspire his local neighborhood and other individuals as to what growing food has to offer.
Melvin has been farming at a quarter acre plot behind a community church in a local Ypsilanti neighborhood. He sells his produce to local restaurants and wholesale buyers.
Look out for Melvin during the 2018 growing season! The year is going to be an exciting one as he recently acquired an elementary school with a surrounding 10 acres of land previously that was shut down by the school district. Parson's vision for the property is for it to become an educational world class urban farm! Good Luck Farmer Melvin!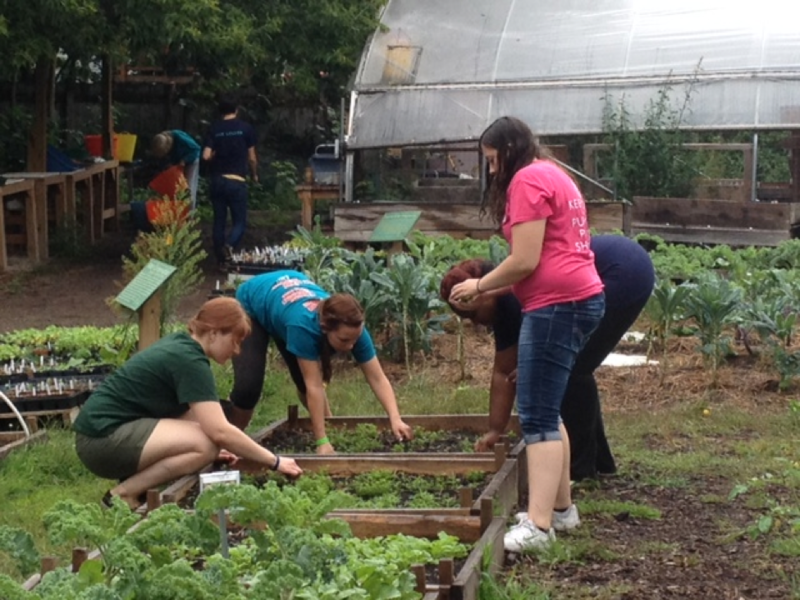 Volunteers visit the Growing Hope Urban Farm to lend a helping hand with some weeding
Growing Hope, a non-profit organization, began in 2003 after previously being The Perry Learning Garden. Growing Hope and its previous leaders were apart of a small movement inside the city which strived to create awareness about growing local food to the community of Ypsilanti.
The organization is also noted for its educational opportunity, community empowerment, and a tangible place for volunteers to work on an urban farm. It is worth checking out their website for more information on the vast work the organization sets out to do!
The farm also offers CSA shares and distributes through local restaurants, farmers markets, and wholesale buyers.
RADICLE ROOTS COMMUNITY FARM
TILIAN FARM DEVELOPMENT CENTER, ANN ARBOR, MI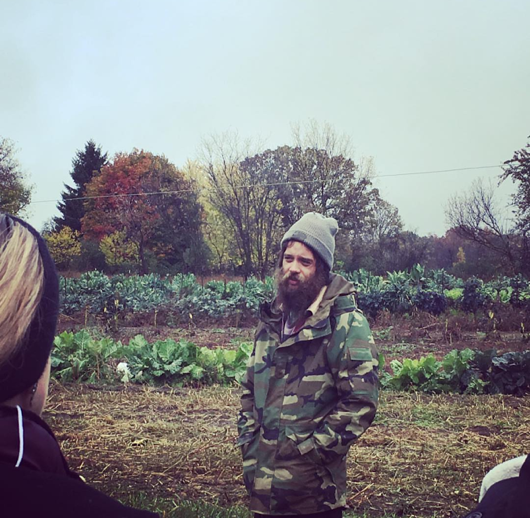 Ryan gives a tour of his farm
Ryan Padgett is the sole proprietor of Radical Roots Community Farm and is a beginning farmer. He has been farming at the Tilan Farm Development Center (an incubator farm) for 4 years and has familiarized himself with growing in a local agriculture setting as he as farmed in various states across the U.S. as a WWOOF 'er.
Ryan grows a diverse range of heirloom vegetables including greens, tomatoes, cabbage, watermelons, etc. He practices regenerative growing methods by removing the need to fertilize or spray his crops and instead uses vermicompost which is worm castings from food waste/municipal waste such as leaves and makes use of rotating crops and using cover crops to bring nutrients back into the soil.
OLD CITY ACRES
ROMULUS, MI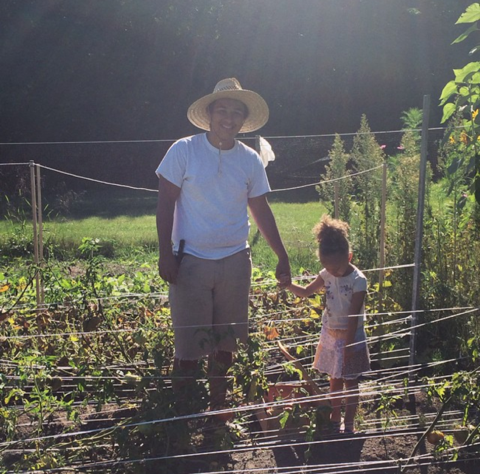 Alexander gives a friend a tour of his farm.
This diverse urban veggie farm is an eye-brow raiser, operated and owned by Alexander Ball. Alexander is a beginning farmer in his first few years of growing food for the local Romulus community. His farm began in 2013, and has grown in various sites. Good news arrived for Alexander recently and he no longer will be jumping from land to land on lease contracts in due part to now being an official land owner! There he will have his first chance to build sustained fertility and produce more vegetables for his markets. Alexander grows various types of vegetables. Tomatoes, cucumbers, spinach, greens are just a handful of what he grows.
Alexander focuses on sustaining local agriculture in the surrounding communities of his farm. He likes to put his growing methods beyond organic making sure his produce exceeds expectations to not only be visually appealing but also nutrient rich for his buyers and supporters alike.
STONE COOP FARM
BRIGHTON, MI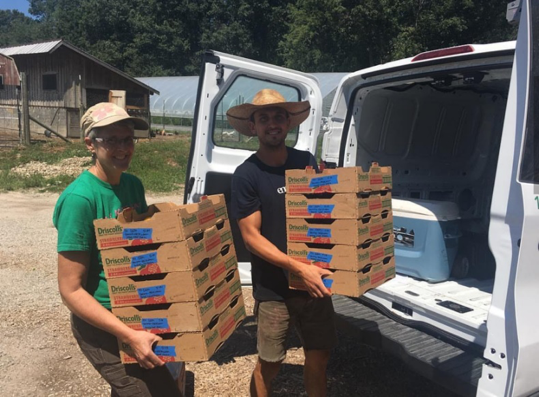 Joannee and Daniel load up tomatoes for Grow Eastern Market
Joannee Debruhl owns and operates Stone Coop Farm which is USDA certified organic. She takes pride in her farm as it is noted for its beauty and organic vegetables. She began her farming ventures working for Gleaner's Community Food Bank where she found the inspiration for farming. She followed that inspiration and went on to graduate from the Michigan State Organic Farmer Training Program. Soon after, Joannee got the ball rolling and started the farm with her partners in November of 2010.
Stone Coop grows various diverse organic vegetables and fruit crops such as Michigan kiwis, pears, brambles, summer squash, tomatoes, cucumbers, potatoes, greens, herbs, and many more!
Joannee takes pride in her work providing her surrounding community with organic food. She works to fight food waste and help educate her members/buyers on ways they can effectively fight food waste by example like proper storage techniques. Their growing practices involve NO sprays or pesticide use instead they maintain their marketability with methods that involve using compost, crop rotation, and careful observation and removal. Joannee also enjoys hosting various events and fundraisers in her historic barn, and offering tours and counsel.
GARDEN FORT
SOUTH LYON, MI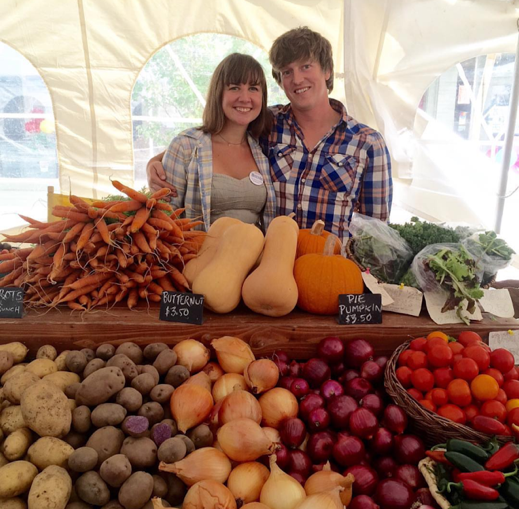 Lindsay and his wife at the South Lyon Farmer's Market
Lindsay Steele is the operator and owner of Garden Fort Farm. Lindsay and his wife live on a beautiful hillside overlooking the valley that sits below his wife's childhood home that happens to be a historic farmhouse. They both have previous experience in farming and decided it seemed too perfect of a place to start their own new family farm. This year marks the third growing season for Garden Fort.
Lindsay grows diverse vegetables including anything from heirloom varieties to micro-greens. Lindsay recently finished converting unused garage space into a working greenhouse/production house. Inside he fills most of the space with his micro-greens! He also includes growing carrots, tomatoes, greens, etc.
They like to refer to their growing practices as "moreganic" instead of organic! They want to make sure their growing practices overachieve the poorer standards one might find as an organic grower by implying no use of organically certified pesticides.